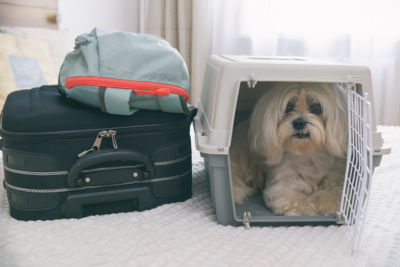 The current conflict in Ukraine has left its citizens and their pets in a state of crisis, forcing many to evacuate the country for shelter and safety. Some evacuees have or are trying to escape with their pets and many others have been forced to leave them behind, not knowing if they will ever be reunited. While many of us will never experience war at home, we are still vulnerable to other catastrophes where leaving home is the safest option for your family and pets. Natural disasters such as floods, wildfires, tornadoes, hurricanes, or industrial accidents like chemical explosions or spills are possible scenarios. We can't control if, when, or how a disaster will happen, but we are responsible for our pets' health and safety should one occur, and the best way to protect them is to start planning now.
Logistics
When time is of the essence, it can be difficult to figure out where you and your pet will go. Write down a plan that includes:
Where you will stay (with a friend or relative, pet-friendly hotel, or emergency shelter)
A local boarding facility in case the pet-friendly hotel is at capacity or your friend/relative is unable to house any or all your pets
The nearest emergency veterinary hospital
The nearest pet supply store
All of the above for a Plan B, ideally in the opposite direction in case Plan A isn't viable due to the disaster
Print out maps for each location/facility with directions and contact information as wi-fi and cellular data could be unavailable at the time.
Emergency Supply Kit
The following are items to have packed in a pet emergency kit:
Sturdy cat or small dog carrier (ideally made of hard material and large enough for your pet to stand up and change positions easily)
Canned pet food (it's less likely to perish, become contaminated, or ruined by the elements)
Bottled water or water decontamination device
Collapsible food and water dishes
Waste supplies (poop bags, cat litter, litter box, etc.)
Medication (it may be difficult to store certain compounded or refrigerated medications in a kit; always have these medications refilled several days before they run out.)
Towel or blanket (to cover your pet's carrier or keep them warm during travel)
Synthetic pheromones (Feliway for cats and Adaptil for dogs are veterinary-recommended and may help your pet cope with stress)
Records (microchip, tattoo, and/or license numbers, proof of vaccines/titer, etc.)
Cat collar with identification (many cats don't like wearing a collar so keep one in the kit)
Vaccines and Identification
Keeping your pet's vaccine and identification status up to date is an important part of pet ownership in general, but it's critical in the event of an emergency. Many pet-friendly facilities or border crossings will deny your pet entry if the requirements are not met. So, as a general but essential rule:
Have your pet vaccinated (especially for rabies), stick to your veterinarian's vaccine schedule, and keep a current vaccine certificate for proof.
If your veterinarian recommends against vaccines in the best interest of your pet's health, request an official document that states this information.
Have your pet microchipped or tattooed for identification (collars and tags can get lost) and keep your address and contact information up to date with the respective registry.
When planning for the unexpected, the time to plan is now! Hopefully, you and your pet(s) will never have to face or flee from a dangerous disaster or conflict, but if/when hope fails, you can rely on being prepared.